Home
I remember winning the daily dance contest quite a few times; however, the Saturday contest with the prize of a new record player always eluded my dance partner, Julie Padilla, and I. It was nice for me because the boy daily winner got some good prizes, but the girl always got the same thing, a bag of Spoolie hair curlers. Well, poor Julie ended up with so many of the Spoolies that her nickname became "Spoolie Julie." By the way, Julie if you read this, I had a crush on you. I remember dancing to the Johnny Mathis Song "Misty" with you almost every time that it was played, and feeling all tingly when I smelled your freshly washed hair. Remember how the camera would move in and show your face on my shoulder? - Manny
*************************************************************************************
I vividly remember watching Archie and Asa dancing to Santo and Johnny's "Sleepwalk" while I sat one out on the side. Archie caught me watching them and just looked back. It was at that moment that I knew that the "King" was in love. Later when I asked what their song was, he told me that it was "Til I Kissed You" by the Eberly Brothers. Then I remember the fight between Archie and Asa's father on her home's front lawn. I remember Asa crying and begging her father to please stop yelling at Archie. I remember Archie trying to plead his case while realizing that he didn't have a snowball's chance in Hell. He had tears in his eyes as he begged her father to let him and Asa continue to see each other. Her father had his hands folded into fists, and was menacingly moving toward Archie as Asa cried and tried to hold him back. I can still see Archie coming back to his car and saying, "Come on Manuel, lets get the hell out of here" as he drove away. It was the last time that Art, or anyone else, ever saw Asa, and it was the beginning of his trip down hill. What was it all about? Archie was of mixed Spanish, French, and American Indian heritage, Asa (pronounced "Osa") was of pure Nordic extraction. - Manny
*************************************************************************************
I remember being stopped on Market Street by the mother of a fan and she asked me for my autograph for her daughter. It was so nice to be recognized, and liked, by strangers who felt as if they knew you because they watched you on television. As I mention in my web page, there were other people who felt that they knew you from watching you on television, but wanted to punch your "lights" out. My time came in the first summer that I was on the show. I had gone to a dance at the Mission YWCA and had a fun time with a few of the other Regulars. After the dance, I ended up at a soda fountain on Geneva Avenue, near Mission Street; I think that it was called "Harringtons." This big husky guy walked up to me and said, "I hear that you have been saying all sorts of things about my sister." At first I denied saying anything about any girl, and I asked who his sister was, but he continued pushing me and asking me to step outside. I was not a fighter, I didn't like fighting and thought that it was the most stupid thing to involve one's self in; however, I could see that there was no way this guy was going to let me go without taking a piece of me. So, I finally said, "OK, lets go outside." Naturally everyone followed us out, and by that time I was mostly alone except for Regulars Leo Bacquero, and George Galan. The guy immediately started to try taking me down to the ground (he must have been a wrestler) but I was stronger than he had thought. He couldn't get me down; instead, I got his head with my left arm (half nelson?) and started to punch him in the nose, and face, with my right hand. In the mean time he could not get out of my firm grip, and some of his friends started to help him by trying to kick my legs out from under me. That is when Regular George Galan jumped in (I'll never forget you for that old buddy) and started fighting with one of the guys who was trying to trip me. Then a police siren was heard and everybody took off saying, "its the cops." I let the guy go, and he offered his hand and asked me, "do you want to shake hands and be friends?" Like I said, I was no fighter, and like a dumb fool, I extended my right hand to him. That is when he let me have it square on the chin. What a dummy I was to fall for that. I found out later that he was a former lineman on the Saint Ignatius Varsity Football Team. To add insult to injury, as Leo Bacquero was leading me away in a big daze, due to the punch to my chin, a couple of girls, obviously not fans, said, "how do you feel now Dance Party." So you see, it was not all fan mail, and adoring fans. - Manny
*************************************************************************************
| | |
| --- | --- |
| Date: | May 31, 2004 9:05 AM |
Hi....I wasn't a regular, but I did attend one show in 1960. I was just telling my husband about the show when the Richie Valens story was shown on TV. I remember seeing him and the Big Bopper as guests on the show. Shortly after that they died in the plane crash. The Big Bopper sang "Chantilly Lace". Wow, what a show. My girlfriend and I went together and the dance floor was smaller than it looked. We waited in line outside on Van Ness Avenue. We went to a local Catholic school. There were bleachers to sit on at the side of the dance floor. I was so excited about being on TV. My father was a teacher at Galileo.....anyway....lots of memories just watching the show. Thank you for the website and allowing me to remember those wonderful years growing up in San Francisco.
Nancy
************************************************************************************************
Hi, Manny

I was wondering about one of the KPIX Dance Party directors. I think he was a
director ... yes, he was tall, with reddish hair, and I think his name might have been Dave. The
only reason I remember him is that one day, when I arrived at the studio, I noticed that he was
talking to someone, standing with his back to me. Feeling just a tad impish, I clapped him on
the back and said, 'Hi, Red'. Imagine my horror when the guest star, Red Skelton, turned
around to face me. I had mistaken Mr. Skelton for Dave. I wanted to die on the spot, but Mr.
Skelton was very kind. He grabbed my hand, and shook it. He nearly crushed it as I remember.

I always wanted to tell Dave (?) about that, but it took years for the embarrassment to go
away.

Elaine Boyle

Elaine refers to the first director of our show, Dave Parker. And, Dave, I hope that this brings
a smile to your face.
************************************************************************************************
I remember vividly how I used to do a funny impression of Marilyn Monroe ... just for friends. It was an impression of the toothpaste commercial that she did in the movie "The Seven Year Itch."
Well, one day Dick Stewart caught me at it and asked me to do it for the show. So, I got a blonde wig and started the bit during the show. As some of you know, Marilyn had this funny way of talking with an exaggerated lip movement. With Dick holding the mike for me, the camera came in for a close-up, and while I did the bit, Dick was subconsciously working his mouth the same way I was working mine.
This nearly blew the whole thing, as it was nearly impossible for me to get through it watching his whole face twist around while I spoke. I barely managed to complete the impression without exploding into laughter.
Do you remember that Dick?
Elaine Boyle
**************************************************************************************
Hi Manny,
Thanks so much for the website, and yep, I agree, they did tape the Saturday Shows, but they didn't keep them.
I think I was in the 4th and last group of Regulars. Cherry, Sonia , and I, along with Tiger, and the hispanic lover Julio, (whom I just remembered ) were the folks who got the most fan letters. That's how they introduced us while doing the dedication of songs, with Dick at the podium.
Johnny Boracco, Frank Pisa, Joe Piazza , along with Joey and Joanna.Panganiban also got a lot of fan mail. There was also, Sandy, and her boyfriend Ernie, who got married while regulars on the show. There was also Cheryl Capitally, who's dad owned Cap's corner, and Rosie who had the biggest you know what's. Dick used to stare at them when she was talking to him.
I remember dancing and winning the daily dance contest with a girl named Cheryl Stoehr, a school mate, and the love of my life. We danced to Mack the Knife and we did the swing. At the time, we received free shoes from a shoe chain called Kinney's.
I went for the candy apple red shoes and Cheryl got a pair of pumps.
Later that same week, on Saturday, we went downtown and danced on Market St for the white "Levis" promotion, We wore white levis and we all got a free Pendleton shirt, which was a very hot item at the time. That was probably the last time I wore a size 15 shirt.
Memories also include the last live show at the Fox Theater on Market; we saw the new group called the Beach Boys, and Tony Bennett introduced San Francisco that night. The Fox gave way to a parking lot later on. What a shame!
Anyhow, thanks for the reunion Manny, it was good to talk to you. I don't think I'll ever come back to SF even though it's in my blood. I am just too old, I live in a smalll community called Medford, Ore, and it's fine for me. However you never know what could happen; let me know if we have another reunion., and thanks, for the site.
God Bless all, and keep on rocking!
Take care buddy,
Mike Hinkes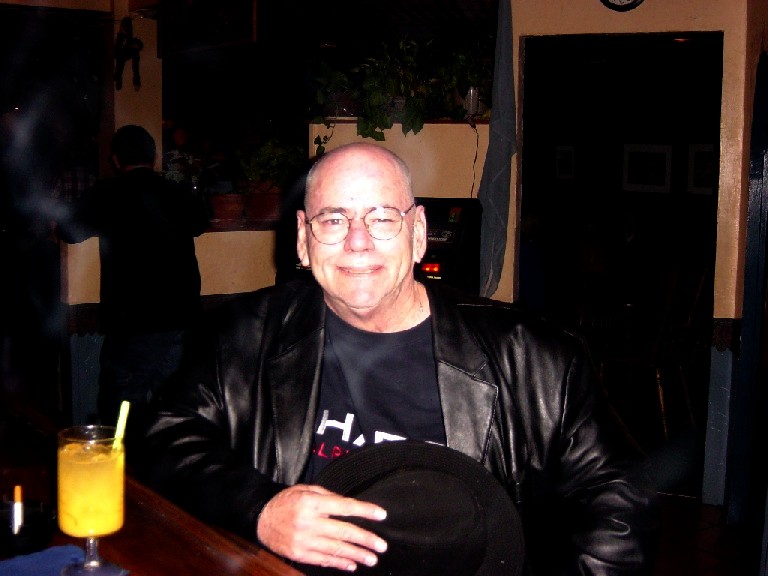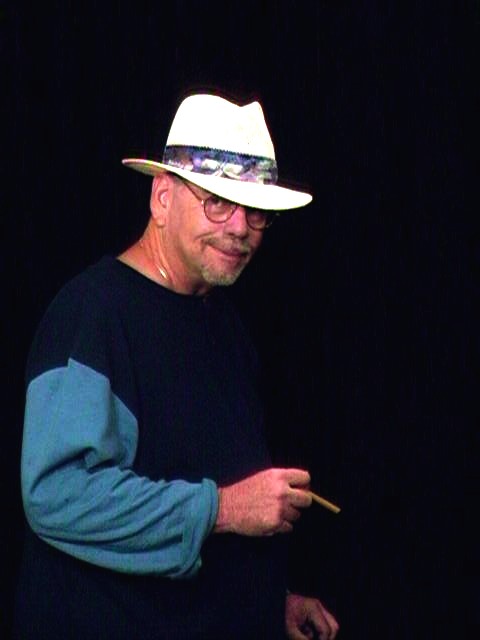 ****************************************************************************************************
December 1, 2005
Hi Manny,
I lived in San Francisco from 1947 (year I was born) to 1964....I loved Dance Party...I would take the bus down to KPIX and stand in line without a ticket...If there was room I would be let in after the show had started...going from the damp evening air into the studio was a thrill...I was 12 the first time I was let in...a young twelve with a ponytail...I spent my thirteenth birthday at the show...Dick mentioned it on the air...I still get a thrill thinking about it...I averaged about 3x a week...I would not get in all the time but stand outside watching the stars of the show walking by was what I lived for...not a regular...just a young girl addicted to tv...
Of the times I got in I remember Annette Funicello's auburn hair...she sang "Pineapple Princess"....I remember when James Brown was on...red painted fingernails...cape...a charismatic character....then there were the regulars....Sandy Lee looked like Bridget Bardot...Tiger was so very cool....I loved it all....
The first time I saw "Him" in person my heart fluttered...Dick Stewart was so handsome...his smile so warm....I ran to the record store when his version of "He" came out...I was in heaven...
Then we moved to Santa Rosa....Dick would bring the show and the regulars there to appear at the Vets Memorial building... I could not wait ....but it was not the same....you needed the cut outs of sodas on the wall and the cafe set to make it work....
Manny this walk down memory lane has brought tears to my eyes....seeing the reunion photos...knowing Dick and Barbara are looking wonderful and happy.....your site is so awesome it transported me to a happier time
Thank you from the bottom of my heart...I miss The city....I miss seeing things with a teenager's point of view...those were great days....thanks for the memories...
Hi Manny you are going to love this....not only did I spend every single summer from 1960 to 1966 up Russian River I danced at Rio Nido at the club ....My grandfather was a member of the Odd Fellows so we owned a cabin at Odd Fellows Park right down the road from Rio Nido...I graduated from Montegomery High School in Santa Rosa in 1965....my happiest memories were the summers I spent there.....Rio Nido was a magical place....the last time I was there was Oct. of 2000...I went to my high school reunion and a friend of mine took me up the river....I could barely speak I had not been back for 35 years....we drove through Rio Nido....it looked the same....maybe a little worse for wear because of the annual flooding seeing the lodge and the artisan enclave was wonderful....Odd Fellows looked exactly the same....scary....our cabin had been renovated and I took loads of pictures....
Speaking of pictures we have recently moved I will go through everything and find a picture of me when I was doing "Dance Party"....I lied about my age....when I told Dick that it was my 13th birthday he said "14th" and winked....I totally got it....I was a skinny little girl in a pony tail but I felt special as I would wait in line to be let in....
I was 15 when we moved from the city to Santa Rosa....I was devastated but my mom remarried...we were closer to the river...but not to the city....at 17 we moved to Southern California were I have resided ever since...I now live in Westminster in the O.C. ....I tried years ago to find any Dance Party info but none was available on the net...then I was futzing around last week and googled "KPIX Dance Party Dick Stewart" .....up popped your wonderful site....I cried.....I was shaking when I went through all the pictures....this site means so much to me....you have done an awesome job....I LOVED the photo you sent...you are so handsome Carol and Shari are so lovely you are all so special.......as a matter of fact do you notice that all the DPer's look like we are in a time warp....maybe it's the time machine of memories that keep us looking younger than everyone else....or better yet it's the music....
Manny feel free to use anything I write on the site....I love sharing my Dance Party thoughts with everyone.....how lucky we are that the Internet has kept this going...I am thrilled and excited....
I have loads of Russian River memories as well as Dance Party memories....btw...I went to Edison Elementary School and James Lick Jr. High...I would have attended Mission High but we moved....
Lynda....still dancing after all these years....formerly Lynda Mcdowell now Lynda Labine....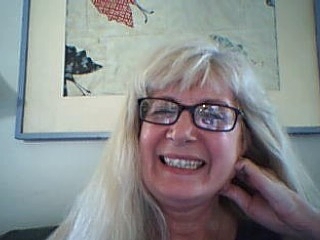 ************************************************************************************************************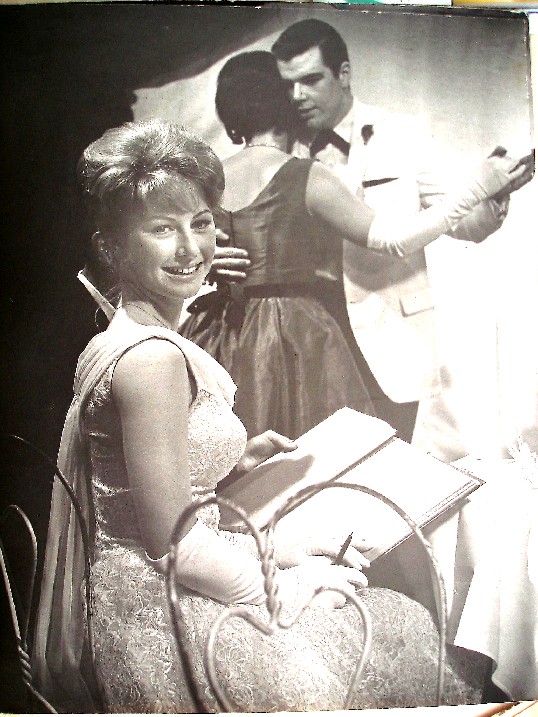 Rosie Linquist during the last year of Dance Party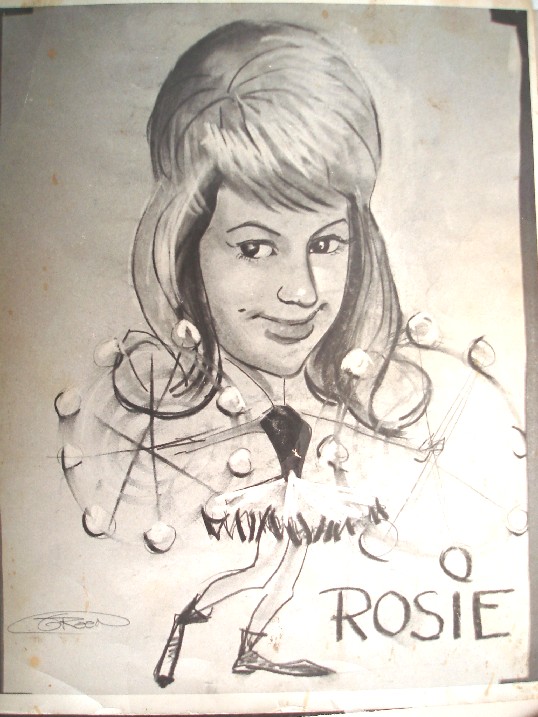 A caricature of Rosie during her Dance Party days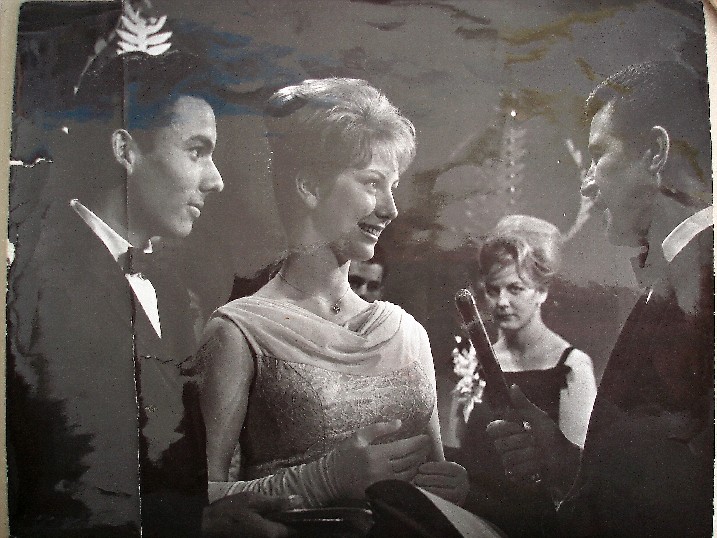 Rosie and her partner being interviewed by Dick Stewart
*****************************************************************************************************
In May of 2006, a small group of us got together at the home of Gary and Robin Savin. They hosted Dick Stewart, his wife Barbara, me, and Shari Langlois for dinner at their home in Tucson. Gary, Barbara, Shari, and I were all Regulars on Dance Party while Dick was, of course, the MC. Robin watched the show, but didn't notice her future husband at all. LOL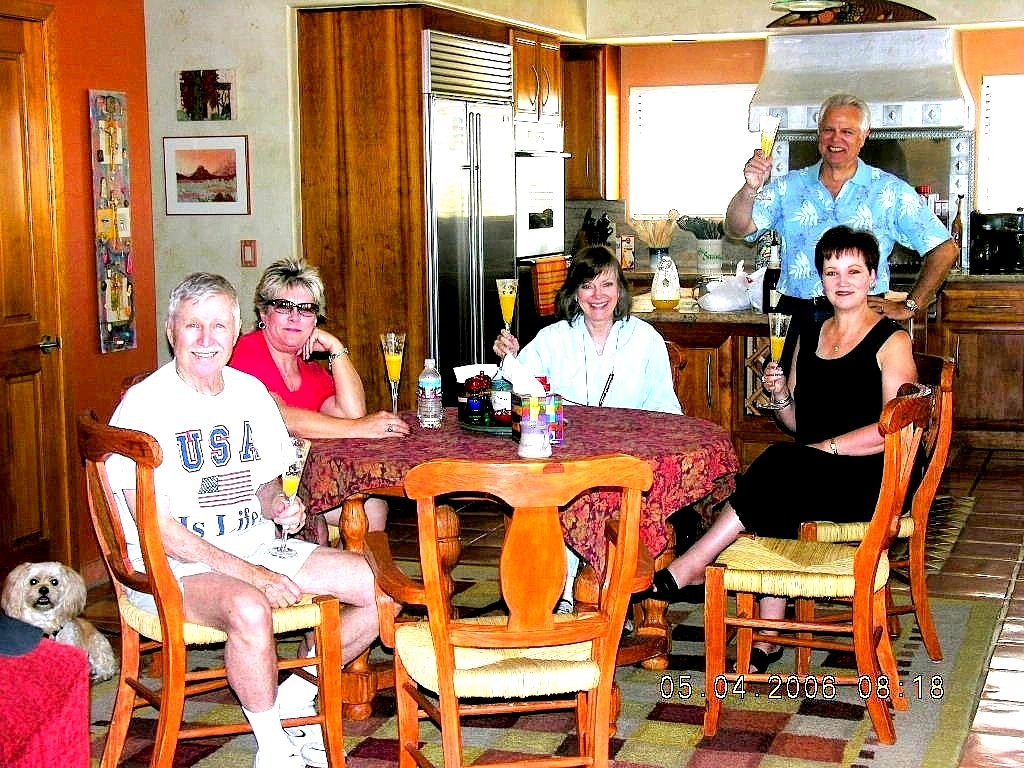 Beginning with Dick on the far left of the photo, there is Shari, Barbara, Gary, and his wife Robin. I took the photo.
******************************************************************************************************************
Between 10/28/2007 and 10/30/2007, I communicated back and forth with Anne Stevens who's father was a KPIX TV camera operator during the Dance Party. I though that rather than paraphrasing our conversation, I would just copy our emails here for you to read.
10/28/2007 Thought you might a kick out of these pictures, circa 1960 or so. My dad was a cameraman at KPIX, we got to sit on the sideslines of the shows, interviewed once on camera by Dick Stewart, horribly embarrassing at ten years old (and terribly hot in black corduroy pedal pusher jumpsuits under those lights!) When the 45 records/songs became obsolete, we got them!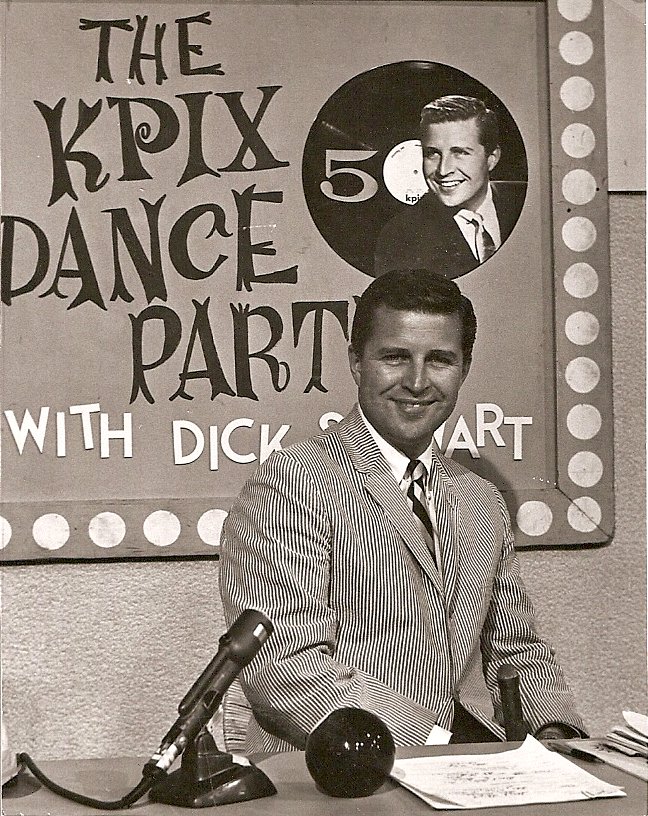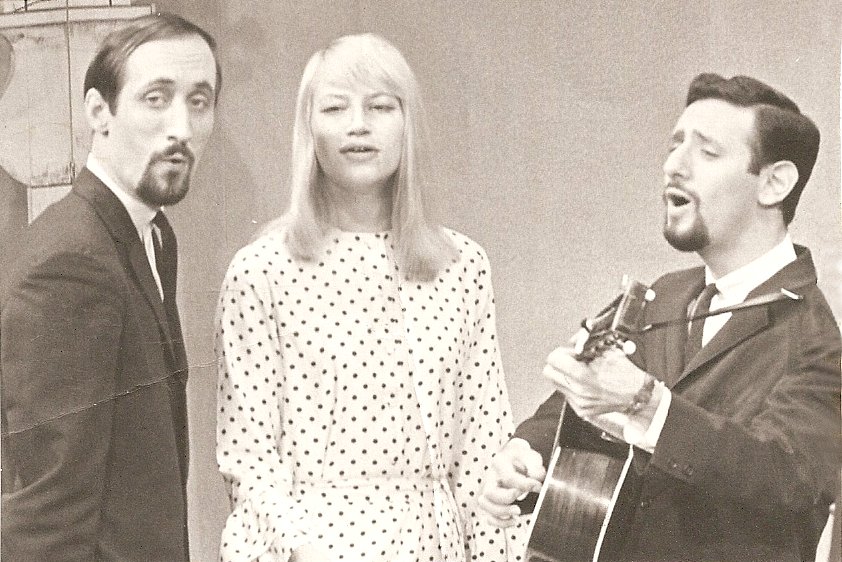 10/29/2007 Hi Anne,

It is always good to hear from anyone who remembers the DP Show, especially from someone who's dad worked at the station.

We are always trying to update our with photos, remembrances, and anything else that relates to the show.

I have two questions for you: Is your dad still alive, I would love to chat with him about his remembrances? Also, do you know, by any chance, a former camera man named Tony Bamba? The really big quest for us is trying to find any copies of the of the tapes that were done for holiday shows. According to sources at KPIX they were just thrown out in the garbage, but we all live in the hope that maybe one of the camera operators might have just kept a copy for memories sake. I mentioned Tony Bamba up above because he had a really good relationship with some of the kids, and I can almost visualize him taking a tape from the garbage and taking it home.

I'll tell you what, it was so gracious of you to take the time to contact us that I am sending you a few photos taken back in May of 2006. They were taken at the home of Gary Savin and his wife Robin. They hosted Dick Stewart, his wife Barbara, me, and Shari Langlois for dinner at their home in Tucson. Gary, Barbara, Shari, and I were all Regulars, so it was like a mini-reunion.

Take care, and I look forward to hearing from you again.

Manny Interiano

10/29/2007 Oh, Tony. Oh my. Tony and my dad were the best of friends. Oh, did you ring up some memories. Hal ( I will remember his last name, he attended the funeral), Tony and my dad hung out all the time at our house in San Mateo, if you can call socializing in the 50's 'hanging out'. I am sorry to report my dad was killed in 1986. Digging out the photos made my wonder what happened to all his negatives, and I can only pray my older sister has them.

I am afraid that if Dad had any of the old tapes, and chances are he did, they are gone. He had one of the first recordings of Bing Crosby singing White Christmas before the words were completed, Bing punted during those verses by swearing! I will contact the two people who might know if they were thrown out or not.

Please do use the pictures for your website and it was WONDERFUL to see the pics you sent.

Hal MacIntyre!!! I thought he was dreamy looking, lol!!

May you have warm winds on all your journeys,



Anne


10/29/2007

Just for laughs, Dad filming something from that time era, when cameramen wore suits and ties, and Dad with his current wife Jean, also same era. I will keep digging for other DP pictures.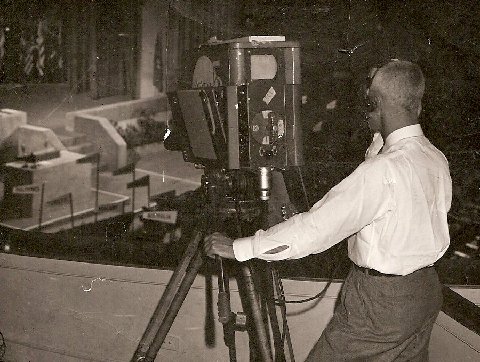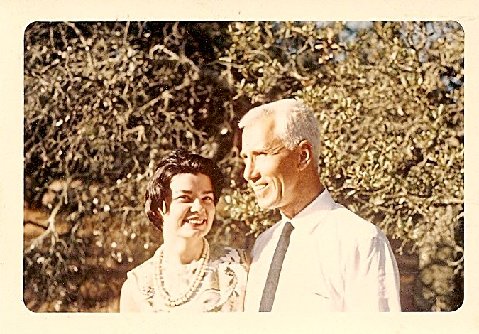 10/29/2007 I found the large pictures, they are 8 x 11 and 11 x 14, a bit of damage to them which I tried to repair as best as I could. I can send these all attached in their original size if you would like. There is a picture of Ray Bolger but I do not recognize the background, perhaps not DP? Would guess both pictures of Dick were taken the same day, July 4th, 1962. These were quickly taken pics of the larger photo, can take them again with better lighting if you like.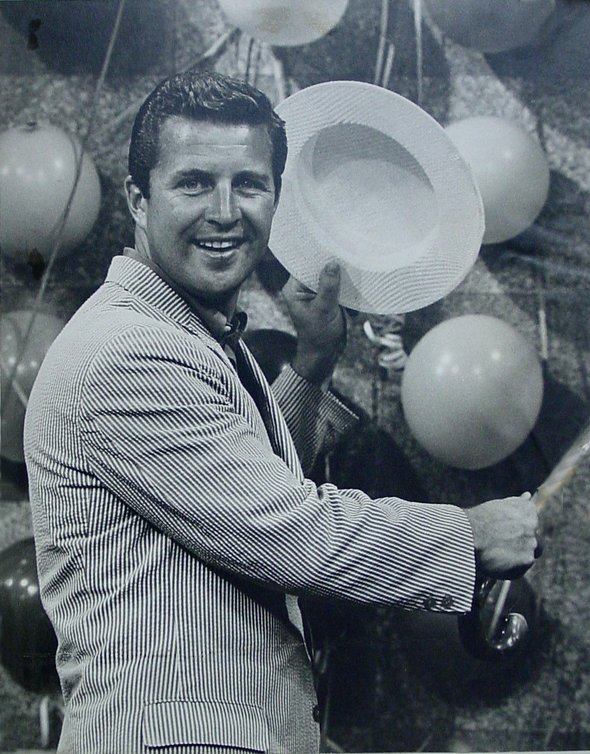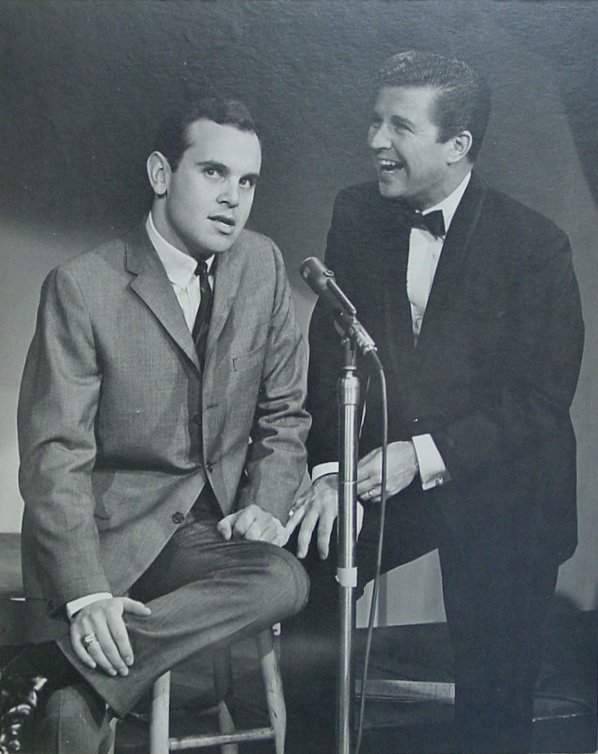 10/29/2007 Manny, I have a girlfriend here who has agreed once I find the KPIX reunion party VCR tape that Dad filmed at his ranch, Stony Acres, she will put it on a DVD for you. It is around here somewhere, keep your fingers crossed I can find it soon!
Anne
10/30/2007 Hi Anne,
It was really something to hear that your dad and Tony were buddies. I really didn't remember your dad at first, but the minute that I saw the photo of him with Jean it was instant flash back and I remembered him vividly. He was friendly but quiet and pretty much the professional doing his job at all times. Tony interacted with the kids a bit more and he always seemed to banter a lot with my buddy Archie.
I vaguely recall the name Hal; some of the others were a guy named Don Lincoln, another one was Scotty. I also well remember the director Dave Parker who was always up in the booth.
I am really sorry to hear that your dad was killed; I would have really loved to have chatted with him.
Thank you for the many good photos that you have sent me; they are really going to add to our website. They appear to be of good quality so don't worry about sending the larger size photos, okay.
I really appreciate your efforts to find additional photos; it is so very gracious of you. And, if your girlfriend does put the VCR tape onto a DVD, that will be the frosting on the cake. Let me know if she does and I will send you my address so that you may send it to me.
Take care Anne; having you find our website was real serendipity for me and the DP Gang.
Manny
**************************************************************************************************************************
4/24/2008
Hi,
My dad used to be a regular on this show during 1961-63. His name is Louis Aguayo. Do you happen to know if they have any archive footage available from this time. I would love to to get a hold of some type of video recording. I know he'd get a real kick out of it.
Best Regards,
Carissa Aguayo
4/24/2008
Hi Carrisa,
You just asked the number one question that we get all of the time; I am sorry to have to tell you that we have not been able to find any archives of film for the Dance Party. We know that they made at least 3 or 4 films, per year, of the show (video tape wasn't around yet) but no one seems to know what happened to them.
A few people who worked at the station say that they were probably just thrown out in the dumpster, but we don't really know. My best guess is that someone ... maybe one of the camera men ... took the films home and they are just still there in some attic waiting to be discovered. Only time will tell, I guess.
I don't remember your dad's name, but then we didn't all know each other either. Tell him hello from me anyway. If he has any photos of himself back then, tell him that I would be happy to do a web page on him on our site but he would need to provide me with his details..
Take care,
Manny
*****************************************************************************************************************
June 9, 2008
Wow...what are the chances Dance Party would actually have a website, after all these decades!
It was the Summer of '59 - and I was in James Denman Jr. High. I spent almost every day taking the long bus rides (1 transfer) to the Van Ness studios, in the hope - sometimes realized - and often not - of being allowed into the Inner Sanctum.
What a kick to look thru the photos, and read the reminiscences. I was one of thousands who was smitten by Bob Park. To use today's vernacular, he 'hit' on me, and I was never the same that long summer. (I remember him telling me his name was Park - without the 's'???). He was a 'smooth operator' long before the term was coined; far smoother than whatever age he was at the time (15 perhaps?). Alas, he took up with a blonde named (as I recall) Lynn Facciola, whom I thought was a 'regular.' Is that not so? I do wish you knew more of what become of him; I think his story might be rather interesting.
I also remember very well Candy Petrakis, who I see is dead now. She was a real spark plug, even though not one of the show's beauties. Can you tell me what she died of? She, too, was smitten with the dapper Mr. Park(s), as I recall.
Then there was Joe Piazza; we girls thought he was extremely 'cute' (our all-purpose word to describe the male gender). Two years later, when I had moved to Santa Rosa for my high school sophomore year, he and The Continentals performed at a dance. Wasn't I lucky...I knew Johnny Johnson from Balboa High, and after the dance four of us went out on a sort-of 'date.' Always wondered what became of him; sorry to learn he was one of our generation's victims of the drug culture that we seem to have invented.
I was amused to see a photo of Barbara Gutcher; her claim to fame at that time was winning the Gidget Lookalike contest - and a date with James Darren. You may or may not know that she changed that un-musical last name, became Barbara Bouchet, and was featured in many movies, including a James Bond flick. Quite a sexy dish, but no more a lookalike to Gidget than I looked like Liz Taylor. HA!
Regarding Aasa Hetland (yes, she spelled it with a double-A); she went to Denman and then on to Balboa. If she was heartbroken over her father breaking up her relationship with Archie, she recovered rather quickly. I remember very well that in jr. high she went steady with one of the Big Wheels on Campus - who, of course, was a 'cute' guy, and very popular. Rich Patane. She was a Scandinavian beauty of the first magnitude, and we girls all wanted to hate her; but, alas, she was so nice that we couldn't. I'm sure her European father (they were all from Norway) thought she was much too young to be going steady and that was the crux of his opposition. It WAS the 1950s, you know!
As I say, the big Dance Party year for me was 1959; after that I think Bandstand supplanted the interest of my friends. Perhaps it had something to do with DP's demise?
In closing, I must mention that the reason I decided to Google DP, is that this morning I came across my diary from '59...on the bottom of each page of summertime drivel, I had written: 'I love Bob'....'I love Bob.'
Well, I managed to get over him, but it is still a kick to relive those halcyon days in the old San Francisco, when it was good - and safe - to be young, and innocent.
Thanks for maintaining this link to our youth...
Sandra Sweeney
I want to thank you for writing. It is always good to hear from someone who is from the same time and space. I'll bet that, even never having met you, we could sit for hours and hours talking about things that we shared long ago.
I have found that you never know what you'll find online until you look. I have found whole yearbooks posted, and other things. In fact, I ran across a Balboa Yearbook quite by accident. An old friend name Elise did a Google search for Dance Party during a few minutes of down time while at work, and not only found us, but found her old high school photo as well. Was she ever shocked; she hadn't seen or heard from me in over forty years. Whoa ... wait ... how can that be ... I'm only 29. LOL
The commute was almost as long for me; I had to commute from Visitation Valley, where I lived. No one, however, could beat Lois Dallal as she commuted in from San Carlos on the peninsula. We also had kids from Marin, and Alameda Counties.
Every girl fell for Bob Parks, he was by far the most popular guy, until "Tiger" came along. I have learned definitively from speaking to some of his classmates in the last few years that he was killed in a traffic accident while driving down to Hollywood for a screen test.
Carole Cherry, and I, probably knew Bob best of everyone, and we hardly knew him at all. He was very secretive about his home life and covered that up by carrying a big chip on his shoulder. He literally drove people away and made many enemies with his mouth. He also broke many hearts. Btw, you must have been very good looking to catch Bob's eye because he only flirted with the "lookers."
I don't know what Candy died from but I am sure that she didn't want anyone to know that she was dying. She was still alive as we had our 1997 Reunion and I was in touch with her. The thing is that she only communicated with me through her attorney and he would not divulge anything to me. At the reunion, everyone was asking me about two people, Candy Petrikis, and Bob Parks. After the reunion, I wrote her a letter telling her how much she had been missed. I never heard from her again; it was only when I took it upon myself to go to her home in Pittsburgh that I found out from a neighbor that she had died.
Boy, you are really dredging up some memories for me by bringing up Joe Piazza and the Continentals. I was close friends with all of the Continentals and used to hang around with them. I still remember that Johnny Johnson lived on Huron off of Alemany Blvd. Joe lived in South San Francisco. His daughter wrote to me recently. I didn't even know that he had any children. He would have been proud of her. She was very nice.
I never really knew Barbara Gutscher - Bouchet, but my friend Shari told me in recent years that she really was a nice person. I always thought that she was a bit conceited and vain. It could be that was her reaction to us (the guys) for not asking her to dance, but that was only because she was taller than most of us. I notice that there are plenty of sites online that sell photos of her. We tried to contact her for both of our reunions but we could not get hold of her address in Europe.
Regarding Aasa, I do remember Archie telling me that her family pronounced her name "Osa." They were madly in love, but then I do remember how quickly we all fell in and out of love as teenagers. Archie went on to a girl named Bev Goddard and that lasted maybe a year or more. Whereas Archie was not as popular as Bob Parks, he was a real "lover" and very smooth with the ladies. All the girls liked him because he even pretended to flirt with the less pretty girls. He was kind of a guy's guy too, all of the guys liked him. I remember though, Archie still occasionally spoke of Aasa years later.
So, you switched to American Bandstand after moving up to Santa Rosa eh? You traitor you! LOL You just hit on another big … very big … memory. We used to go up to Rio Nido on the Russian River, close to Santa Rosa, every summer and go to the dances there. Even Bob Parks turned up there one night, and the ladies mobbed him.
Sandra, we were all lucky to be kids during the very best of times in America's History. I am glad that I helped you, in a small way, to relive those days of magic when all of life's possibilities lay before us like sparkling diamonds on a blue velvet cloth. I enjoyed your letter and it makes me glad that I did the web site.
You are very welcome and I hope that I hear from you again … especially, if you have any questions. If you have any photos from high school, I would be happy to add them. If you would like to write up a page or two about your times on the show, I would be glad to add those as well.
Manny Interiano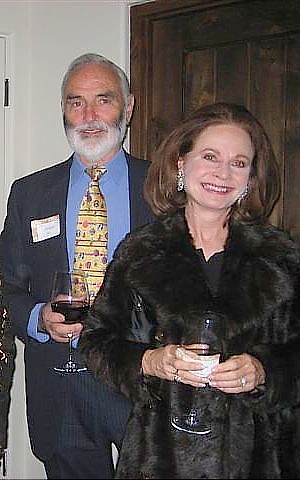 Sandra and her husband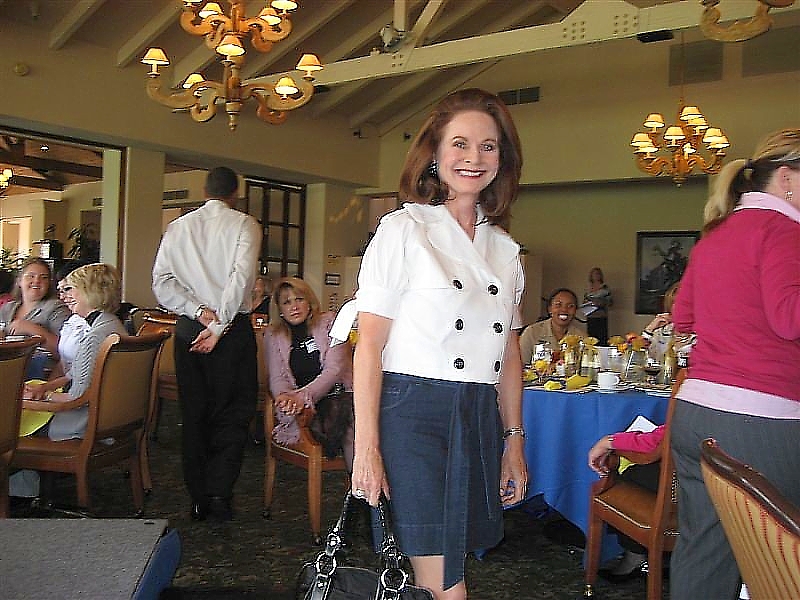 Sandra Sweeney
************************************************************************************************
June 21, 2008
Subject: Dance Party Website
Dear Manny:
My name is Stephanie Fox (AKA Stevie) and I am an old fan of Dance Party. I was reading my local newspaper today (West County Times) and there was a letter to one of the columnists requesting Dance Party videos or info. I read about your website and was thrilled. I have been looking at the photos for about an hour and found myself totally reliving my dance party days. I was never on the show, but some of my friends were on a few times, as well as some old acquaintances.
I was sorry to hear about Joe Piazza. He was one of my favorites. Seeing the faces of the regulars brought back some great memories. Shari Langlois was another favorite of mine, as well as Candy. Rosemary Lundquist was on the show, later, and I knew her in Junior High. (Downer Jr. High in San Pablo) She was attending Richmond High at the time, I believe.
I, too, was a regular at Russian River, so it was great to see some of the photos of the kids up there. Yes, that place has changed, as does everything.
Thanks so much for the great website. Keep it up!
Sincerely,
Stephanie Fox
June 21, 2008
Hi Stephanie,
It is always good to hear from anyone from the same point in time and space.
And yes, those were certainly the good old days. When ever I get together with any of the old Dance Party crowd, we always talk about how fortunate we were to grow up during that time. And it is always amazing how anyone of us gets the glint in the eyes whenever someone mentions, Russian River, Rio Nido, Maribel Park, Guerneville, and Stump Town Days. The other thing that gets my antenna up is, of course, when ever any of The City's high schools, or Dance Party, is mentioned.
I consider myself so fortunate to have made all of those friendships back then that still survive to this day. Just this last Thursday evening, my old friend "Lynn Facciola" came up to my area of Northern California, with her husband, and met me for dinner in Chico. It was great, we talked and talked for hours of the old days, and of the many people whom we met and knew. Lynn was a very attractive girl, and consequently, she went steady for varying times with Joe Piazza, Bob Parks, and Frank Pisa.
I knew a Mary Fox who lived in South San Francisco; where you related by any chance?
If you have any further questions, or just specific memories that you would like to share, please feel free to do so. I would enjoy hearing from you.
Manny
Hi Manny: Wow, thanks for your reply. I can't believe it is really you. How lucky you all were to be on such a popular show and right in our backyards. Lynn was one of my favorites, also. I do remember her dancing with Joe Piazza many times.
I do not know Mary Fox. Did she go up to Russian River, too? I met several people down at the "Center" (in Rio Nido) one night from Dance Party and there was a Mary there.
My brother was Richard Fox and he used to go to all of the dances in Rio Nido. (We had a cabin in Canyon One.)
Anyway, I told some of my old friends about your website, so they will enjoy it, too. Some of my junior high friends were on the show a few times and they remember you and someone named "Larry". Was he a friend of yours?
Thanks, again, for all of the memories….
Sincerely,
Stephanie
****************************************************************************************************
I received this photo from Joe Panganiban a short time ago. It was taken on "Prom" night and he is with Geri.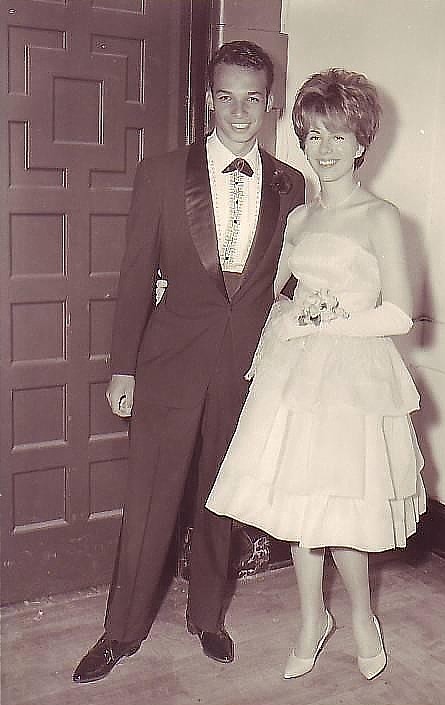 *****************************************************************************************************************
Hi Manny,
I was looking up something on the net and you know how one thing leads to another? You know, you start looking for a recipe for apple pie and end up hours later on a site about Brazilian serial killers? Well somehow while looking for something, I found your wonderful page.
I was never a regular on the show but my girlfriend and I did make it there 2 times. I thought you might be interested to hear how it was for us Bay Area kids.
I was born in the city (1945) but ended up going to high school in Albany in 1959-1962. In 1961 I had a girlfriend (Jeannie) who lived in El Cerrito (the next town over) and we would watch Dance Party most every afternoon. Jeannie heard Dick Stewart say to write for tickets to get on the show, so unbeknownst to me, she did. She called me up one day and said we're going on TV.
I was 16 and she was 14, we had no car and no chance for a ride from the parents, so she figured out how to get to the studio on Van Ness (?) on the bus and streetcars.
We made it to the studio which was a big adventure in itself for us and had a great time dancing and seeing all our heroes, the regulars.
I remember there was a guest star that day, Juliet Prowse. As you probably know she was a great dancer and was going out with Frank Sinatra at the time. I looked up her bio and this was all around 1961-1962 which seems about right to me.
Anyhow, we were totally blown away by being on TV, seeing a real movie star and all the regulars.
When I went to school the next day I found I was a minor celebrity! Everyone had seen me dancing with this beautiful blonde and couldn't believe a lowly Albany High kid had been on the show.
So my girlfriend got us tickets again. This time we told everyone at our respective schools we were going to be on. I'll bet the viewer ratings in El Cerrito and Albany went off the scale that day. ;->
We got on our coolest clothes. Me, a gold corduroy sport coat with a shawl collar, snap tab pale green shirt with a skinny silk tie, 13" pegged pants and my Chubby Checker Twisters with white socks. Jeannie had on a tight skirt, tight sweater with pearls and with her long straight platinum blonde hair, was a real knockout.
Now back in those days, I had a lot of hair. It was pomaded up into a big D.A. with a fall but we discovered the first time that the TV lights were really hot. It melted the pomade and my hair went flat. You see, the big deal was I had bigger hair than Tiger and we wanted to dance next to him to show him up. No malice, just one of those kid contests.
The plan was for Jeannie to use hair spray on me. I wasn't going for putting girl's hair spray on my head but she swore it would work and hold my hair up. Plus she promised not to tell any of the guys. Not wanting to be seen, we ducked into a gas station restroom across the street and she used half a can on me. Man, it felt weird.
Well, it worked! Elvis Presley would have killed for my do that day. We got on the dance floor and kept crowding poor Tiger. He probably thought we were nuts. We had a great time and even went to Playland afterwards to fool around.
The next day at school we were heroes. Everyone kept saying, man, you had more hair than Tiger! And who is that cuuute blonde girl?
I got a bit of fame for a long time after that and a lot more respect from the girls who didn't know I could score such a cute girl.
I graduated a few months later and went off to the Air Force. I got a Dear John from Jeannie when I was down in Texas but it was OK. I was on my way to Vietnam and the rest of life.
And you know what? I never knew how to dance! I made it all up on the spot and everyone thought I was a great dancer. Making it up as I went along was a lesson that served me well through my life. ;->
I'm now retired on the Oregon coast but it seems like yesterday. Ah Jeannie, where are you now?
Thanks for the memories Manny. Best wishes to you and your pals.
Gene Fitch, Albany High class of 1962.
***************************************************************************************************
********************************************************************
Margaret to M.I., February 15, 2009
A group of us were talking about Dance Party and all the regulars ----- don't know the guy's real name, but wasn't there someone called "Twinkle Toes" on the show?
Great website - thanks for the memories.
Margaret R.
February 16, 2009
Margaret,
Yes, there was a "twinkle Toes" and his real name escapes me, but no one has heard from him since the show was done and no one could find him for any of our reuions. And, you are most welcome ... thank you.
Manny
February 16, 2009
He seemed rather like a loner at the time, but certainly a great dancer (or a very unique one). If anyone comes along who might remember, let me know - or post it on your website.
You guys all look pretty great, as does Dick Stewart. Thanks so much for the info.
MMR
M.I. to Margaret R. February 17, 2009
According to my friend Darlene Cendali, his name was Joe Oritz. Neither one of us remembers him much, but he was a popular Regular and danced to his own beat and step. All any one remembers is that one moment Dick and him went aside and the next moment he walked out never to return. Nothing more is known and I don't think that even Dick remembers the moment.I wish that I could give you specifics, but no one knows what transpired.
I do remember that at our first reunion back in July of 1997, I danced with a lady who was a former fan and she told me that she had just danced with Twinkle Toes, but no other person at the reunion claimed to have seen him. We had all changed in appearance very much, but I doubt that he could have been there without someone recognizing him. I guess that we will never know what happened all of those years ago. One bit of information that someone remembered was that he lived at Hamilton Air Force Base in Marin County. If you have any other questions, I would be happy to give you an answer if it is known.
I'm amazed that you've gone to such great lengths and I thank you - a mystery somewhat resolved after all this time.
Margaret R. to M.I. Februay 17, 2009
Funny what you pick up from just watching someone. I do know that at Skyline High School, Twinkle Toes had a cult following and many of the cool guys learned to copy his way of dancing (especially the slow ones).
Thanks again and it's just so interesting to see that most of your group has stayed in touch and kept in touch with Dick.
Best for 2009 - MMR
M.I. to Margaret R. February 19, 2009
In your last email you wrote that Twinkle Toes went to Skyline High School and that would not match with living at Hamilton AFB in Marin County. If you, by any chance have his photo in your year book, I would sure appreciate it if you could copy it and send me a copy and the spelling of his name.. I would really like to solve the mystery and pull him back into the group, if possible. Whatever he did or didn't do, he was one of us and deserves to be in touch with us. If you can help, it would be greatly appreciated. In his day he was just as popular as "Tiger," "Bob Parks," and others on whom I do receive email enquiries..
When we were on DP, we thought that it would never end. Consequently, we never bothered to even get each other's last name or many photographs. As a result, it has been very difficult getting ahold of everybody. Some even forgot they were on Dance Party when I contact them ... a few want nothing to do with their old friends. Still I must persist in getting us all together once, and again, for reunions and memories.
Manny
Margeret R. to M.I. February 19, 2009
Manny ---
I had meant and not been particularly articulate that those of us who went to Skyline H.S. were part and parcel of TT's followers, not that he went there. I did try googling him, but was wondering if you meant his last name to be "Ortiz", not Oritz?????
To follow up, I'll try and see if I can get any of Skyline's alums names/e-mails, et al. Someone may know something. Also, you may already know how to do this, but personnel at Hamilton AFB may under the interesting circumstances be able to help.
You are apparently the glue that keeps all this on-going and that's really quite impressive. Is there a tactful way to ask Dick Stewart if he remembers anything?
Best of Luck - MMR
M.I. to Margaret R. February 20, 2009
Hi Margaret,
Yep, I think that I am kind of what keeps the thing together. I did the web site and the two reunions out of love of the time and experiences that I consider "the best of times." I also consider myself quite fortunate to have been able to live the dream and be one of the Regulars.
And, you are right TT's last name was Ortiz, not Oritz. I must have been thinking of Linda Moritz of Oakland HS whom I have been trying to find forever. She was my first girlfriend who nicknamed me "Lonely Boy." She moved to Salinas in her Sophomore year and I never heard from her again. I have tried to find her, but have had no luck.
Thank you for any help that you can provide in finding TT.
********************************************************************
Shiela L. to M.I. March 16, 2009
Do you know what happened to a regular named Joe Oros "Twinkletoes" who
appeared in 1960-1961?
M.I. to Sheila L. March 18, 2009
Hi,
Wow, you are the second person withing the last thirty days asking about Twinkle Toe's and I have to tell you that next to Bob Parks, he is one of the biggest mysteries of our show. With time memories have dimmed and hardly anyone remembers him much. One of my dear friends, Darlene Cendali, who used to dance with him on occasion told me that his real name was "Joe Ortiz."
He was described by several people, including myself, as a "Loner." He did the swing in his own unique way and some of us copied it.
What I of us do remember is that one day Dick Stewart had a conversation where Joe took his tie off, and the conversation ended with Joe walking out of the studio while the show was still going on and never appearing again. None of us ever saw Joe again. We tried to find him for our reunions but he was not found.
I wish I could give you more information, but I don't really know what happened to him or where he may be. My own personal observations of him are that he was aloof but kind of wild. He didn't associated with any of the guys, but he did seem to be attracted to the young ladies, but then, who wasn't.
Thanks for writing,
Manny Interiano
Sheila L. M.I. March 18, 2009
Thanks for the update. I do know his name is Joe Oros as our fathers were stationed at Hamilton AFB and he lived a block away from us in base housing.
My younger sister used to practice all of his various dance steps with him. I just remember trying to help him "peg" some of his corduroy pants which matched
his tennis shoes. Joe attended San Rafael high school and should have graduated in 1962; we moved during the summer of 1961 and lost track of Joe and his family. I shall continue my search as my sister would love to know.
what happened to him and I'll refer him to your site if I'm successful in locating him.
M.I. to Sheila L March 19,2009
Well I guess DJ (Darlene Joy Cendali) only remembered partial details about Joe.
I want to thank you sincerely for your information, and I do hope that you let me know what you find out. We are always looking to gather our entire flock.it would be nice to at least get to see them once again to tell them what a pleasure it was to know them.
Don't hesitate to call with any other questions that you might have.
Manny
*****************************************************************************************************************
On Monday, March 21, 2009 I received word from Magaret R. that the San Rafael High School class of 1962, listed Joe Oros, alias Twinkle Toes as deceased. No details were provided.
******************************************************************************************************************
Hi Manny, Thu, Jan 20, 2011
I just came across your KPIX Dick Steward Dance Party website. What a great tribute to a great guy and a great show.
I lived in Millbrae, and kids from our Mills High School made it up to the show once in a while.
We're starting to get our 50th Anniversary Class of 1962 Reunion organized for next year, and the music everyone loves was from the Dance Party era.
Are you in anyway associated with broadcasting now or then? I only ask because i belong to Broadcast Legends, a Bay Area group of retired radio and TV folks. Gosh, we've lost and continue to lose so many of the ones we grew up with.
All the best to you!
Bob Matheson
Hi Bob, Mon, Jan 24, 2011
Thanks for your nice letter, I liked it so much that I forwarded a copy to Dick Stewart, and his wife, Barbara Anne. Answering your question, no, I was never associated with the broadcasting industry. Other than my time as a dancer on Dance Party, I had nothing to do with the media. I am somewhat familiar with the "Broadcasting Legends" because I wrote in to them once to correct some of their information about television anchor Roger Grimsby.
He worked at KPIX-TV when I was a Regular on the Dick Stewart Dance Party. One day Dick was out with the flu, and Roger filled in. We all had a good laugh that day because he spoke as if he was doing the news. He would introduce each record as if he was talking about a murder on Market Street. lol
One of our star Regulars, named Bob Parks, came from Capuchino HS, from down your way. I do remember some of the Mills HS kids coming up as daily guests.
Good luck, and lots of fun at your upcoming reunion. We had a blast at our's.
Manny Interiano.
*****************************************************************************************************************
From: Sandra Johnson
Date: Sat, May 7, 2011 at 9:55 PM
Subject: Missing Regulars
To: KPIXDanceParty@gmail.com
Am I ever suprised to find this Web Site!!!!!!!!!!! My name is Sandra Johnson. I was a regular starting August of 1961. I went to Mercy High School and was friends with Joe Piazza and a bunch of others. I was a regular from August 1961 through 1962. I got my then boyfriend Ernie on as a regular too, so lots of people remember us as a couple. We went to all the Dick Steward dances and promos.
I would love to hear from any and all Regulars!!! I live in Hawaii now. My number is 808-xxx-xxxx ( number provided on request) and of course you have my email address.
Mahalo and Aloha,
Sandy
Hi Sandra,
It's always good to hear from one of the old gang. I never got to meet you because you started the show a few months after I left. I know that we had a bunch of the girls from Mercy as Regulars. A name that come to mind is Darlene Cendali.
I will send out an email to the Regulars that I have on our website letting them know of your interest in hearing from people. You should know that as one of us, you have the option of having a free web page, and Scrap book on our site. Some people, such as Lynn Facciola, Al LaRocca, and a few others, opted out for their own reason, but stay in touch via email. Let me know your thoughts on this.
Hey Hawaii sounds great as a retirement location; this is going to make many of us jealous. I'll tell you what, in addition to sending your email out to the Regulars, I am going to post your email, sans address and phone number, on the "Memories" page. If someone indicates an interest in contacting you, I'll contact you with their information. .
Feel free to email us any time.
Your friend,
Manny Interiano
Look at what I found in my records.
from Suzanne denzil23
to KPIXDanceParty@gmail.com
date Wed, Jul 21, 2010 at 7:12 PM
Subject Sandy and Ernie
What ever happened to Sandy and Ernie? I don't know their last names. They were regulars on Dance Party in '62, '63.1 I was in high school (Homestead High Sunnyvale, CA.) when dance party was running. I was a big fan.
Suzanne Whaley
Sandra Johnson to M I
date Mon, May 9, 2011
Manny, I went through some old boxes and found these photos. Please post or use them for the web site as you see fit. Some are self explainatory. The Photo of Ernie and I was in the summer of 1962 (we were just married in July '62). The photo of us with Baby Ernie was in summer of '63. Baby Ernie is now 48 (how time flys). Ernie and I had 2 boys, we divorced in 1969. I know I have more Dance Party memories somewhere...I will send on more as I find them.
Thanks for passing on Don Camps email. Can you give me his email to reply...He included his phone numbers but not his email.
Thanks for everything.
Mahalo, (mahalo is hawaiian for thankyou)
Sandy
M I to Sandra Johnson
date Tue, May 10, 2011 at 11:56 AM
Hi Sandy,
Thank you very much for the priceless memories. I have archived these for possible use on your web page, and scrap book ... should you want one. Please keep digging for these great mementos. Mahalo to you, Sandy. And, by the way, I watched that short video. I really enjoyed it; looked like it was taped at Drake High over in Marin. You can buy a copy of the father daughter special show at http://www.tvofyourlife.com/kpixdanceparty.htm
Darlene, and her dad, got a lot of air time on that one, probably because they danced very well together.
Manny
******************************************************************************************************************
Links to the different web pages

---
by M. Interiano
Copyright © 2004. All rights reserved.
Revised: March 4,200405/18/11 14:59:15 -0700.