Home Page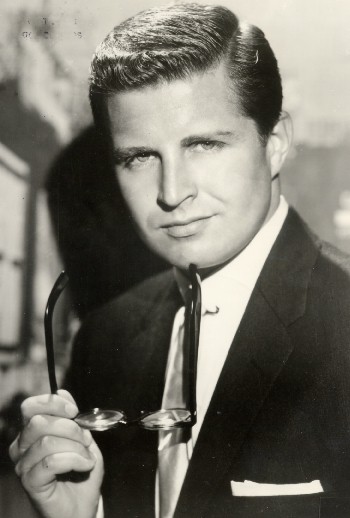 At 29, Dick Stewart returned to San Francisco after eight years in Hollywood, where he performed in movies and television. For three of those years--these were the days of LIVE TV!-- he was on the air seven days a week, locally or nationally. He was happy to be called back to the Bay Area where he had grown up, and delighted to receive a "Favorite Son" Award from Oakland High School shortly thereafter.
Dick Stewart started out as a Big Band singer and had a love of good popular music, which bode well for his responsibilities as producer and host of KPIX Dance Party. When he took over, he changed the format from Rock 'n Roll only and included smatterings of Big Band, Country, Jazz, and updated classics.
He went against the powers that be when he broke the Country classic, Marty Robbins' "El Paso," and played it on a dance show when it wasn't a good dance number and ran on for four minutes, long for a popular song of the day. He said, "I don't care if the kids dance to it. It's great and they can just sit down and listen for four minutes." It became a smash. He also helped to break the new versions of such evergreens as Bobby Darin's "Mack the Knife," The Flamingoes' "I Only Have Eyes for You," among others.
Dick Stewart's opening theme for the show was Jimmy Dorsey's "Contrasts"; a departure from the "do-wop" sounds teens were used to. He instituted the popular "Silhouette" Dance with romantic subdued lighting and an old-fashioned rotating mirrored ball that cast festive dots of lights while couples slow-danced to songs like his closing theme, "Dream," by the Pied Pipers. Surprisingly for a teen show, his in-person guest list often included stars like Stan Kenton, Pat Boone and Frankie Lane.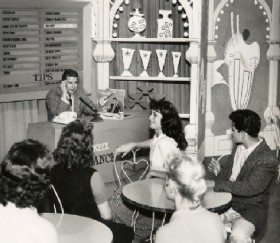 Dick Stewart plugs albums including Stan Kenton's. In the background, he displays the current hits, such as "Smoke Gets in Your Eyes", "Peter Gun", and "Hawaiian Wedding Song."



| | |
| --- | --- |
| Frankie Lane | Pat Boone |
Dick helped found the Lettermen singing group, but chose to forgo the hard life on the road. So, he was delighted to expose the teens to their unique sound and broke out their first hit, "The Way You Look Tonight." Dick is today included in the "Group Singers Hall of Fame" as a Lettermen original member.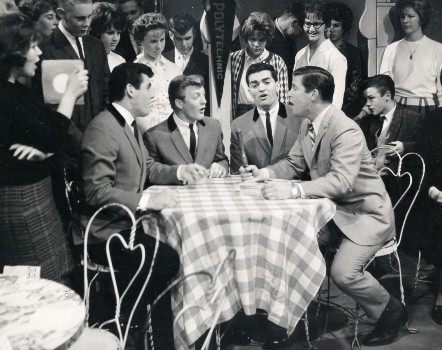 The Lettermen

The Dick Stewart Big Band was well received with appearances of the "Regulars" at local venues. Dick's range of musical tastes widened the music appreciation of the kids. Dick Stewart had his own recording success with his rendition of "I Believe" that was #1 on all stations for several weeks. Produced by Dick with a Rock 'n Roll group as backup ("The Blossoms"), the recording holds up to this day as an outstanding version of the song ...

I Believe by Dick Stewart.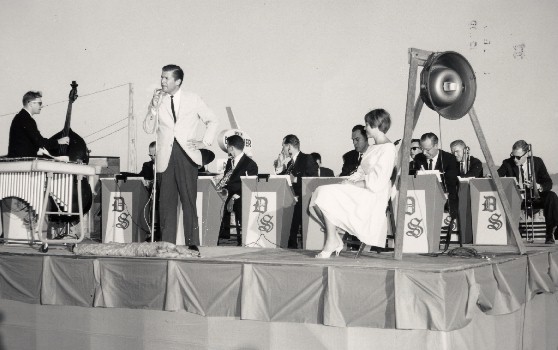 The Dick Stewart Band
After Dance Party ended with a long-run #1-show status even on its last day, having aired for an hour and a half six days a week for five years, Dick went over to ABC and starred in his own talk/variety show, "The Dick Stewart Show", "On the Scene with Dick Stewart," and "The San Francisco Palace." Eventually, he moved back to Hollywood to pursue other offers including production, hosting game shows, acting on camera and voice-over in television series, and became a commercial spokesman for many of America's major corporations.




| | | |
| --- | --- | --- |
| | | |
| Dick boxed in the Marines in order to get better food! Here he works out with World Lightweight Champ Lauro Salas for a publicity shot. | | For fun during the period, Dick Stewart bought an SNJ to hop around the Bay Area. His life was saved by a voice in his headset that said "needle-ball, air speed, needle-ball, airspeed" while he was in thick fog over the Bay. He realized he was in a graveyard spiral! Sweat flushed out of his body! He adjusted the needle and ball and air speed and popped out of the fog alive. The headset was not plugged in... |
Dance Party turned out to be a fateful show for Dick Stewart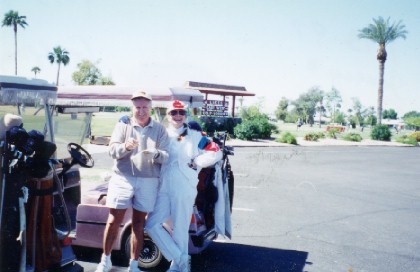 where he met his future wife, "Regular" Barbara Burrus. At age 14, he would never have thought she would be "The One." Years later, after his marriage ended and his former wife remarried and started a new family, he dated Barbara. When she began her acting career and was chosen as "Anne Randall, Playboy Magazine's Miss May '67", he took her "off the market". They raised Dick's three kids, having none of their own, and enjoy 2 granddaughters. After a long and happy life in show business, they chose retirement together in Arizona and a life of golf and community service.
The MAN: I was going to write a short piece on the Dick Stewart that I knew, but I found I had really not known the man as well as I thought I did. So, I wrote Dick asking him for some information on his background. I received a delightful letter that is so honest and non-pretentious, that I decided to use it here. I think that it speaks well for the man. - Manny Interiano


Dear Manny,

Unlike some ego-driven sho-biz folks of my acquaintance, I abhor talking about myself.

My career prior to DP was quite good. While attending radio school on the GI bill, I managed to garner a small but respectable reputation as a vocalist and found myself on call for several name bands "gigging" in San Francisco hotels. I Landed a job with Hoffman Hayride TV show and was taken along with the star, Dude Martin, when we were hired to do a prime time hour for Sears (their first attempt at TV advertising) in Hollywood.

For seven years I was on local TV like the plague. During one three-year period I appeared seven days a week! These were: PARLOR PARTY (five days), FREEZE ON TWO (five nights), THIS IS YOUR MUSIC (Sunday night NBC network}, THE MOVIE MARSHALL (Saturday afternoon kiddie-cartoons). There were, of course, a couple of movies and guest appearances on other shows.

Then---all at once, NOTHING! I was thrilled...for the first six weeks. Then, I realized I was OUT OF WORK! Panic, panic. Big house, big payment, two kids, etc. All of a sudden I wasn't going to the studio every day.

Then, I got this phone call from the program director of KTTV where, years before, I had done the Dude Martin show, Movie Marshall, etc. He said to me, matter-of-factly, "Dick, I think they're looking for you in San Francisco."

They flew me up and we had our first meeting. Guys from all over the country were auditioning for this. Each candidate did a week. We're talking a six-day wk @ 2 hours per! The show had no rating. I mean no one was watching it! But what the hell, I could use a week's pay.

Fortunately for me, I followed a guy who was, I am told, slightly dorky, thus making me look better than I was. I went home after my week and some time later, the KPIX bosses called and offered me the job. God smiled on me when I got the notion to bring on you kids. We went from zero ratings to #1 in our time slot -- to #1 in all daytime! We stayed there right to the end, when we were cancelled because the CBS network expanded its news an hour. The movie preceding the news was repped by national sales dept. Dance party was repped by the locals. So we were out.

We received some national honors, most notably, TV/RADIO MIRROR'S "BEST MUSIC PROGRAM". Of all my treasured memories of Dance Party, the one that most warms me is of a gang of kids who became known as "THE REGULARS."

Annie joins me in wishing you the merriest of Christmases and all the best for the coming year. Looking forward to seeing you, I am, as ever,

Your friend,

Dick Stewart
The MAN: Dick's best friend, and life's love, Annie (Barbara Anne to me) sent me some of the following information to add to the above:


Dick Stewart was born in Davenport, Iowa; however, his family moved to Oakland, California while he was still in his preschool years. He attended Cleveland Grammar School and Oakland high School in Oakland, California. After completing his education, Dick decided to seek a future in the entertainment industry, but, before embarking on his chosen path, he entered the US Marine Corps to complete his military service obligation (remember this was the time of the draft).

Dick served a tour of duty in the US Marine Corps before returning to continue on with his chosen profession. Sometime during his service in the Marine Corps, he developed an interest in boxing and, for a time, considered becoming a professional boxer. He eventually hung up his boxing gloves, but has always maintained an avid interest in boxing and other sports. He has always enjoyed a good game of tennis, and watching football as a spectator. He is also an avid low-handicap golfer.

Eventually, Dick's talent started paying off with supporting roles in movies and by becoming a host for some local television shows in Southern California. He also recorded some songs and even had a long play album issued on the Hi Fi label.

He came to be the Dance Party Master of Ceremonies, in March of 1959, from a successful singing and acting career. He was of ideal age and temperament for the show. He, not only provided a likeable role model for the teens, he took proactive steps to see that the show was fully integrated and representative of the community at large. He was years ahead of his time as a humanitarian.

Very few people knew that, at the time of Dance Party, he was an accomplished aviator and would often go flying for the sheer enjoyment of it. He owned his own North American SNJ, a World War II trainer for the U.S. Navy's pilots. It was the same version used by The US Army Air Corps to train it's pilots, although they called the plane the AT 6 Texan. The plane was fully aerobatic and could fly at a speed of approximately 180 miles per hour.

After Dance Party, he returned to Southern California where he returned to singing and acting. He produced talk shows, two of which starred Jack LaLanne and Melvin Belli in Hollywood. He also hosted "Dream Girl 67," a game show fashioned after The Miss America Pageant. The show was number #1 while Dick was its host.

Dick was line producer of Bo Derek's first movie where she met and fell in love with John Derek in Mykonos, Greece. He was also a commercial spokesman representing many of the top corporations of America up until his retirement to Sun City, Arizona, in July of 1994.
Links to different web pages

---
---
by M. Interiano
Copyright © 2004. All rights reserved.
Revised: March 4,200401/27/11 16:03:48 -0800.