Home Page
Ron Fazzio
aka, Ron the Mop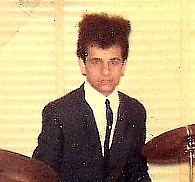 Ron was a Regular a year, or more, after my time on the show, so I can't really say that I know him. I can say that while I never met him, I do feel a camaraderie with him for having been a Regular. He had similar experiences as did the other Regulars and his story adds to the mosaic of that era, that location, and the KPIX Dance Party. Having said that, here is his commentary as provided to me. - By Manny Interiano
I remember watching Dance Party everyday growing up in the late 50's and 60's. When I graduated from Francisco Junior High School a couple of my friends and myself got tickets to go on the show. This was the summer of 1962. My friends and me looked as if we were off the set of the movie Blackboard Jungle. It wasn't the fact that I was going to be on TV that made me nervous, but that I was actually going to be there watching Dick himself, and all of the Regulars.
I was pretty shy back then, but I had a great time meeting people from all over the Bay Area. I remember Dick Stewart calling me up to the platform to talk to me. What brought it on was the way I wore my hair, which was in a huge Pompadour, somewhat like Norm (Tiger) Estes. Dick had me come back all summer long and into the fall. I guess I was called up because another huge pompadour haired guy appeared on the show.
All of a sudden everywhere I went people called out my name. Girls would ask me for my autograph and I would get fan mail and you know what that's like when your young. It was like you were all celebrities. I remember seeing Norm Tiger Estes because all you had to do was look for a crowd of girls, and he was in the middle. I also remember Sandy Lee who at that time everyone called Brigette because she resembled Brigette Bardot. I remember Dick calling me up to the platform and interviewing me .
Everyone on the show was real nice and it was so much fun. Dick Stewart even gave me a nick name, Ron the Mop. I thought Dick was a great guy, but I hated that nick name; however, I was a good sport about it. I even had my hair cut on a Saturday afternoon show by Dick's personal barber. I believe his name was Connie. Within three weeks it was all grown back.
I remember Pete Marino always in the front and dressed to kill. I thought he was one of the coolest dressers around. Being Italian, I always seemed to like nice clothes even when I couldn't afford them. I remember after the show Dick and Pete came up to me and said they wanted me to come back. So I did all summer and into the fall and it was a very special summer for me.
I also remember one day, I was standing to the side of the studio up front while they were doing a commercial, Dick announced a ladies choice and all of a sudden everyone was scurrying around and walking in every direction. I saw Bridgette (Sandy Lee) walking in my direction. I looked around seeing who she was going to pick and she came for me. All of a sudden, I got a lump in my throat , my palms were sweating and I thought, oh no, I'm going to step on her feet or get tongue tied and say something stupid. To me that was like I gone and danced with the real Bridgette Bardot. I guess I didn't do too bad. We did dance together again during that summer.
By early 1963 I didn't attend anymore due to the fact I had a job after school, and I had band practice. I played drums in a group, and we would go all over the Bay Area. People would still recognize me from Dance Party. Whenever I drive through San Francisco I pass by the corner of Van Ness and Greenwhich Streets, I remember all of us lined up outside waiting to be let in. I can remember many faces and new friends made at that time.
Links to different web pages

---
Home Page
by M. Interiano
Copyright © 2004. All rights reserved.
Revised: March 4,200401/17/07 14:11:28 -0800.