Home
Joe Piazza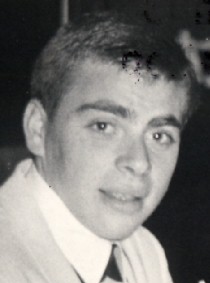 Joe Piazza was an extremely popular Regular. He played drums and had his own band. He dated Regulars Shari Langlois, Barbara Burrus, and others. Dick Stewart introduced the new "Caesar" haircut on the air and Joe volunteered to removed his then-fashionable pompadour hairdo that John Travolta sported in the movie "Grease" as did Regular Tiger. The new "do" is sported in this photo of him.
After Dance Party, Joe left show business and went into sales. He got married and had many children. Since he was an adopted only child, having a big family of his own should have brought him happiness.
Joe became a victim of the drug culture that was just taking hold near the end of Dance Party's run. His death was a disappointment to all of us. We still hold to the innocence of the Dance Party ice cream malt shop version of teen life. - Barbara Burrus, aka Anne Randall Stewart
I would like to add that while I did not know Joe very well, it was not because I didn't want to; rather, it was because everyone else wanted to know him and he was always surrounded by people. Joe oozed charisma and poise. He was not as handsome or physically gifted as some of the other Regulars, but he more than made up for that by his music talent, and charisma.
He attended South San Francisco High School (along with his buddy, John "Burgie" Burgamaschi another Regular) and had a very popular band named "The Continentals" that was in much demand for dances throughout the San Francisco Bay Area. In fact, his band did the music for the popular song, "Yellow Moon" by the Viscaynes, a Vallejo group that had a singer named Sly Stewart; he later became Sly Stone, a very popular singer. One of the members on Joe's band was another Regular by the name of Johnny Johnson who went to Balboa High School in the City.
Joe was destined for great things, and we all felt that way. Apparently, his life took a bad turn sometime after the show ended and then we lost him. I don't really know what happened; I have heard bits and pieces of his story, but I think that it was just the old story about how a good man became undone by powerful forces beyond his ken. I feel that we lost one of our best when we lost him. The reality is that it could have happened, and did happen, to others of our group and generation (read my account of Archie Dulac). - Manny Interiano

**************************************************************************

Joe Piazza, was your average "Joe" kind of guy. What made him special was his wonderful, generous, heart. Joe was a little more sensitive than most of the guys who were on the Dance Party. He dated several of the girls who were on the show. He was always a gentleman, and treated us girls with respect.

Joe would be moody at times, and could be very quiet, or out going at other times. He was one of the more popular guys on Dance Party; he had a way of drawing people to him. I didn't know any one who did not like him. Joe had a lot of class and personality. He was a charismatic individual.

The last time I saw Joe, he was playing, with his band, at Big Al's, in San Francisco around 1966. He spotted me when we went in, and gave that big winning smile. When he took a break, he came over for a few minutes and spoke to me. I would never have thought that was the last time I would see Joe. He is the one person I miss at the reunions. I wish he didn't have to leave this world while still so young. Thanks for the memories Joe. God Bless you. - Carole Brooks
Links to different web pages

---
by M. Interiano
Copyright © 2004. All rights reserved.
Revised: March 4,200409/10/06 09:26:33 -0700.