Home Page
Dianne Walraven
aka, None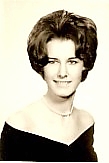 Dianne and I were on Dance Party at the same time, but I don't really remember her. I don't think that we ever danced a number together; however, as with all of the other Regulars, I do know her in a way because we shared the same time, place, and life experiences. In corresponding with her to setup her web page, it quickly became obvious to both of us that there was a strong, almost family like, connection between us. In fact, I told her that I felt as if I had reconnected with a long, lost sister with whom I had lost contact.
Anyway, I am happy to have gotten acquainted with Dianne after all of these years.
Here are the recollections of my friend Dianne about those golden days that we were so fortunate to share.- by Manny Interiano
I remember coming home from school one day and my mother telling me about a new television show called Dance Party on the KPIX television station. Teens were being chosen to try out for open slots on the show as "Regulars." I thought that sounded like a lot of fun, as I was a great fan of Dick Clarkís "American Bandstand" which had a similar format. After sending in my letter explaining why I wanted to be a "Regular," I received an invitation to audition for one of the Regular's slots. At 14 years old, I didnít know an awful lot of boys who would want to dance at the audition with me, but I got up the nerve to ask this one guy named Richard. Amazingly he said yes!
The audition played a big part in being accepted as a Regular. I had to dance three numbers with Richard and then be interviewed by a panel that included Dick Stewart. I couldnít wait to hear if I would be chosen. Some time after we auditioned I received the acceptance letter from Dick Stewart; I couldnít believe it! Unfortunately, Richard never came on the show with me. He told me he broke his arm and it had to heal. Well, after that he never seemed interested again. So I went on the show as a "Regular" without a regular dance partner.
After school I would catch the bus for Dance Party; going up Mission Street and then Van Ness Avenue to the KPIX studio. It was loads of fun! I remember one show was for fathers and daughters. So my dad went with me. I treasure the memory. One of my friends on the show was Regular Glen Dale. He and I attended Balboa High School and were in the same French class. Another friend was Regular Alex Sarti. He and I would often ride the Mission St. bus together going home after the show. If Alex came over, we would sometimes walk to Glenís house for a visit
In November of 1960 my time on the show was cut short as I became ill with mononucleosis. I was in the hospital for a week and received a card from Dick Stewart, which I still have.
I actually met my husband through Alex Sarti. One evening there was to be a taping of the show. Alex came by my house first and he had a friend with him named Leo. Five months later Leo and I were going steady. We eventually married and now live in Northern CA. Our two sons also live in the area. We are both retired and like to travel, especially to Italy where Leo was born.
I feel fortunate to have been a Regular on Dance Party. This website is a place where we can reminisce and keep our memories alive.
Dianne Walraven
Links to different web pages

---
Home Page
by M. Interiano
Copyright © 2004. All rights reserved.
Revised: March 4,200402/19/07 09:18:32 -0800.